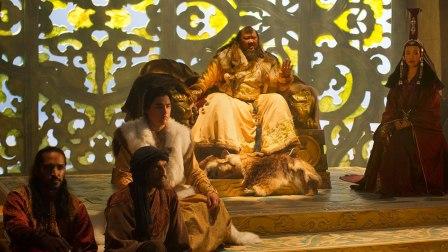 پاپ موزیک – مجموعه تلویزیونی «مارکو پولو» داستان زندگی سیاح مشهور ایتالیایی و رویایی او با «کوبلایی خان» را بازگو می‌کند. این مجموعه تلویزیونی با بودجه ۹۰ میلیون دلاری برای ساخت ۱۰ قسمت، یکی از پرخرج‌ترین سریال‌هایی است که تا به حال ساخته شده و تنها سریالی که بودجه بالاتری برای ساخت دارد، مجموعه «Game of Thrones » شبکه HBO است.
نود میلیون دلار برای ده قسمت مارکوپولو
اما این مجموعه اهمیت دیگری نیز برای نتفلیکس دارد؛ این شرکت امیدوار است تا «مارکو پولو» با جذب مخاطب بین المللی، در کشورهای دیگر نیز پخش شود. نتفلیکس تمامی حقوق پخش بین المللی این سریال را در اختیار دارد.
به گزارش نیویورک تایمز، شبکه نتفلیکس حقوق پخش بین المللی دیگر سریال‌های محبوبش چون «House Of Cards» را در اختیار ندارد، و این مجموعه‌ها از شبکه‌های رقیب در کشورهایی چون فرانسه و آلمان پخش می‌شوند. نتفلیکس با تولید این مجموعه پرخرج و افزودن مخاطبان بیشتر و بین المللی، قصد دارد تا به شرکتی جهانی تبدیل شود.
این شرکت هم اکنون سخت مشغول فعالیت در بازار بین المللی است اما آمار رشد آن، آن گونه که انتظار می‌رفت بالا نبوده است. در ماه اکتبر، بخش اروپایی این شرکت آمریکایی شروع به کار کرد و ۲ میلیون مشترک دیگر به این شبکه اضافه شد. اما این رقم همچنان پایین‌تر از رقم ۲٫۳ میلیون نفر بود که این شرکت امید به جذب آن داشت.
این کاستی در جذب مخاطب، باعث شده تا اهمیت مجموعه «مارکو پولو» برای شبکه نتفلیکس چندین برابر شود. تولیدکنندگان «مارکو پولو» عقیده دارند این مجموعه، که داستان سفری قهرمانانه را بیان می‌کند، می‌تواند برای مخاطبانی از تمامی فرهنگ‌ها جذاب باشد و درهای بازارهای جدید بین المللی را بری روی نتفلیکس باز کند.
مجموعه تلویزیونی «مارکو پولو» پخش خود از نتفلیکس را در تاریخ ۱۲ دسامبر آغاز خواهد کرد.